The last
post
got me wondering, i know i have loads of 'dream' projects i would love to do but know deep down i will probably never get round to. For example i would love to game out the final battle in:
How cool would that be?!!. I also think it would be doable in 20mm plastic these days as medieval blokes are well catered for and the undead army could be done by mixing
The Red Box undead types with:

Ceaser undead (pic from
plastic soldier review
), could provide some of the personalities for the army of darkness, Sheila could be on the end and Evil Ash could be converted from the guy in the middle left?.
The Oldsmobile may be harder but im sure ebay would provide a body in the right scale.....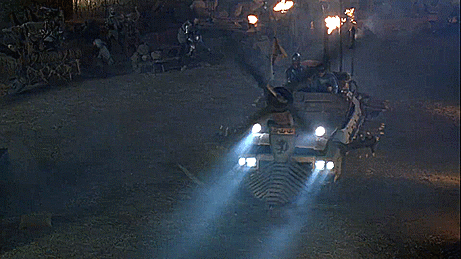 ......This beast could be done?.....
Other projects that could be fun would be some of the battles of Westeros. I am a fan of George RR Martins Song of ice and fire setting, i love the politics and relationships between the families and houses that constantly switch and shift as the various factions vie for any advantage. If you have ever done office work you may recognize the traits!!. Some of the battles described in his work would be great fun to game in my opinion. The Blackfire rebellion where the bastard sons of house Targaryan rose to try to take the throne would be fun, as would Roberts rebellion and the battle of the trident.
Hugs, Westaros style!.
As stated above minis would be pretty easy to source as the psudo-medieval setting in 20mm is if anything over saturated so you would be spoiled for choice!.
Im not the worlds biggest sci-fi fan but a battle that would be amazing on the games table would be from the movie Starship troopers.
Doogie Howser in sppaaacccceeeeeee!!!!!!
The one where the roughnecks are stranded in an abandoned outpost while masses of bugs swarm towards them!.
The idea of a small force outnumbered over 10 to 1 attempting to hold out while transports arrive to rescue them is always a fun and tense game but something about the setting really works for this battle in particular. The film itself is not much to write home about but the set pieces are fun and great for these types of ideas. As far as minis go any 20mm moderns could work for the human troops
As for bugs, how about Games workshop Tyrinids spring to mind.
Ooooh buggy!! (pic from Spikybitz)
All of this will probably never happen but its nice to think about from time to time.....oh well.....
But enough about the dank reaches of my dusty old brain, how about you guys?, what projects would you love to do (money and time no object)?. Why not pool ideas in the comments below?.
.......Anyway, till next time.....